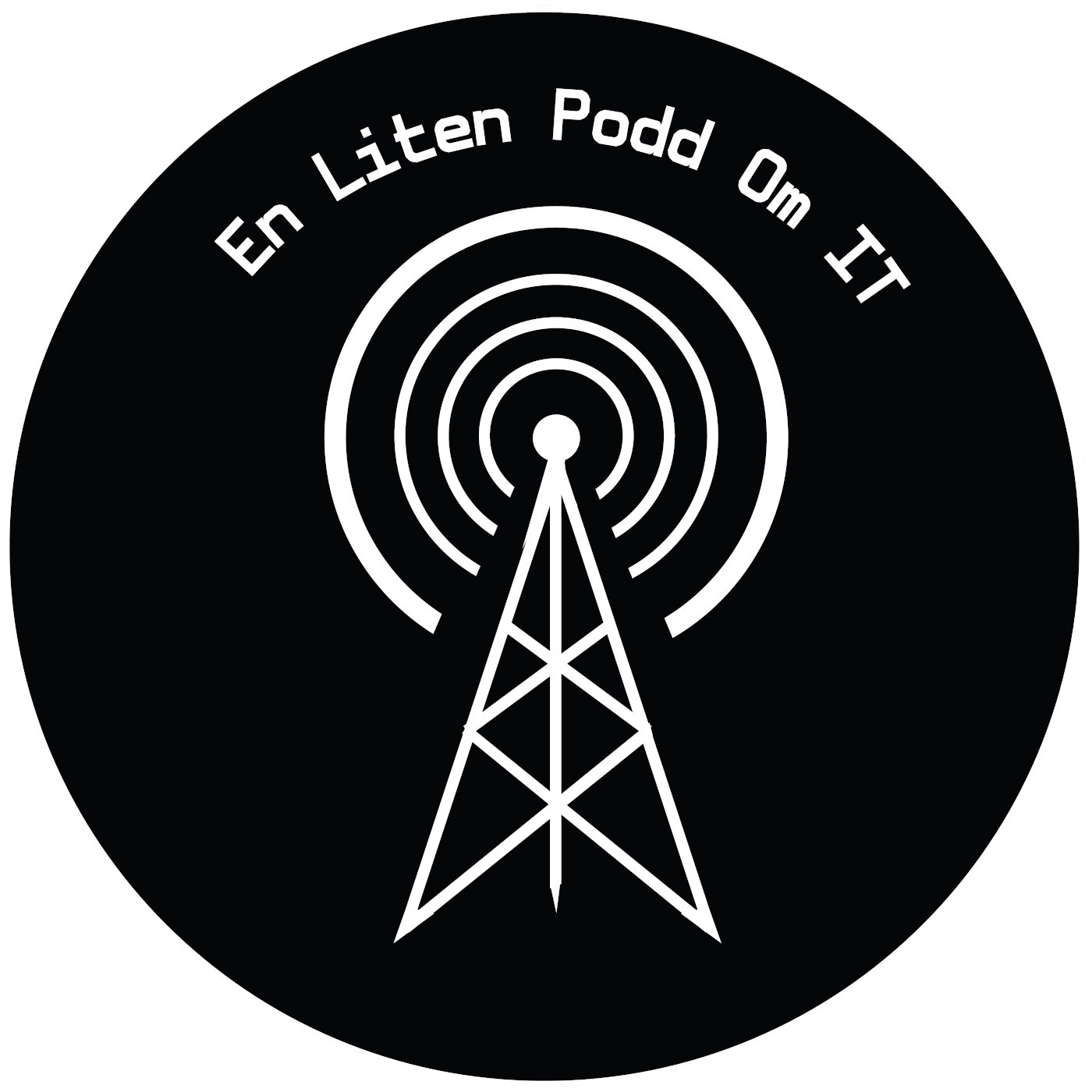 En liten podd om IT är en podd där där du hör Björn, David, Mats och Johan föra en väldigt ostrukturerad diskussion om allt som har minsta lilla anknytning till IT. Kriteriet för ämnen i podden är "vi pratar om det som vi tycker är roligt eller intressant och det handlar oftast om IT". Men varje vecka brukar rubrikerna "Microsoft", "Google" och "Apple" tas upp.
Episodes
Thursday Sep 14, 2023
Avsnitt 426 spelades in den 12 september och därför så handlar dagens avsnitt om:

INTRO:
- Alla har haft en vecka... David skapar material för presentationer på jobbet, läst ut en till bo, och skaffat playstsation 4 med spelen overcooked och ultimate chicken horse. Björn har jobbat, haft födelsedags kalas,varit med hund hos vetrinären. Tittat på HarryPotter. Börjar misstänkar bältros... Johans dag har varit som ett livspussel med 1000 bitar där alla är helt vita, och konstaterat att det var bättre förr.

FEEDBACK AND BACKLOG:
- David ber om ursäkt för att han sa fel förra veckan. Men Björn tycker INTE att man ska be om ursäkt för en sådan sak.

ALLMÄNT NYTT
- Det rör på sig kring interoperabilitet
  https://www.thurrott.com/cloud/288850/new-whatsapp-beta-shows-traces-of-chat-interoperability-support 
- Vill vi prata mer om LastPass intrånget som skedde i november 2022??
  https://krebsonsecurity.com/2023/09/experts-fear-crooks-are-cracking-keys-stolen-in-lastpass-breach/ 

DISKUSSION:
- Är detta rätt (den enda??) vägen att gå för att undvika toxiska sociala nätverk?
  https://www.engadget.com/meta-is-blocking-potentially-sensitive-topics-from-threads-search-231028963.html 

MICROSOFT
- ChatGPT är törstig
  https://www.androidpolice.com/microsoft-chatgpt-ai-chatbots-water-consumption/ 
- Björns nya kort?
  https://www.engadget.com/forget-cash-back-microsofts-xbox-mastercard-exclusively-earns-game-discounts-185141446.html 
- "Microsoft to protect Copilot Commersial Customers Against Copyright Lawsuits"
  https://petri.com/microsoft-protect-copilot-customers-copyright-lawsuits/ 
- Nu kan man registrera sig för Microsoft Ignite (som är den 14-17 november i Seattle, 15-16 online
  https://petri.com/microsoft-opens-registrations-ignite-2023/ 
- Nu kan man registrera sig för Microsoft Ignite (som är den 14-17 november i Seattle, 15-16 online
  https://petri.com/microsoft-opens-registrations-ignite-2023/ 

APPLE
- Apple Eventet!
  - Presentationen: https://www.youtube.com/watch?v=ZiP1l7jlIIA 
  - BONUSLÄNK: https://www.youtube.com/watch?v=KxnpFKZowcs 
- Inget mer läder från Apple
  https://appleinsider.com/articles/23/09/11/hermes-pulls-all-apple-watch-bands-from-online-store 
- Idag (eller "för tre dagar sedan") så firar vi att apple watch funnits i 9 år. 
  https://appleinsider.com/articles/19/04/24/how-apple-watch-went-from-rumor-to-shipping-product-on-april-24-2015 
- Å nu DJ*VLAR ska Siri bli BRA! (eller åtminstone OK)
  https://appleinsider.com/articles/23/09/06/apple-is-pouring-money-into-siri-improvements-with-generative-ai 

GOOGLE:
- Google Messages för Multidevice Support
  https://www.androidauthority.com/google-messages-multi-device-support-3363315/ 
- DOJ har gjort ett stort anspråk på kokurrensbegränsande verksamhet mot google. Nu startar rättegången.
  https://arstechnica.com/tech-policy/2023/09/heres-exactly-what-google-will-argue-to-fight-the-dojs-antitrust-claims/ 
- "Ny" Android leverantör
  https://www.androidauthority.com/hmd-global-branded-phones-alongside-nokia-3363349/ 

PRYLLISTA
- David: SSL 500 VHD+ Preamp, https://www.thomann.de/se/ssl_500_series_vhd_preamp_518670.htm  (gärna två stycken), 
  och en låda att stoppa dem i, https://www.thomann.de/se/fredenstein_bento_8_pure_analog.htm .
- Björn: en superliten dator… https://miniatua.com/store/#!/IBM-5150-PC-1-10-Scale-Model-Limited-Special-Edition-Pre-order/p/379618888/category=0 
- Johan: https://www.samsung.com/se/smart-signage/digital-flipchart/samsung-flip-55-inch-lh55wmhptwc-en/ 
  https://www.amazon.se/-/en/Portable-Computer-Definition-Display-Monitor/dp/B08H1KLQ9D/258-7007877-8828512?psc=1  och en Teleprompter

EGNA LÄNKAR
- En Liten Podd Om IT på webben, 
    http://enlitenpoddomit.se/ 
- En Liten Podd Om IT på Facebook, 
    https://www.facebook.com/EnLitenPoddOmIt/ 
- En Liten Podd Om IT på Youtube, 
    https://www.youtube.com/enlitenpoddomit 
- Ge oss gärna en recension
   - https://podcasts.apple.com/se/podcast/en-liten-podd-om-it/id946204577?mt=2#see-all/reviews  
   - https://www.podchaser.com/podcasts/en-liten-podd-om-it-158069 

LÄNKAR TILL VART MAN HITTAR PODDEN FÖR ATT LYSSNA:
- Apple Podcaster (iTunes), https://itunes.apple.com/se/podcast/en-liten-podd-om-it/id946204577 
- Overcast, https://overcast.fm/itunes946204577/en-liten-podd-om-it 
- Acast, https://www.acast.com/enlitenpoddomit 
- Spotify, https://open.spotify.com/show/2e8wX1O4FbD6M2ocJdXBW7?si=HFFErR8YRlKrELsUD--Ujg%20 
- Stitcher, https://www.stitcher.com/podcast/the-nerd-herd/en-liten-podd-om-it 
- YouTube, https://www.youtube.com/enlitenpoddomit 

LÄNK TILL DISCORD DÄR MAN HITTAR LIVE STREAM + CHATT
- http://discord.enlitenpoddomit.se 
(Och glöm inte att maila bjorn@enlitenpoddomit.se  om du vill ha klistermärken, skicka med en postadress bara. :)