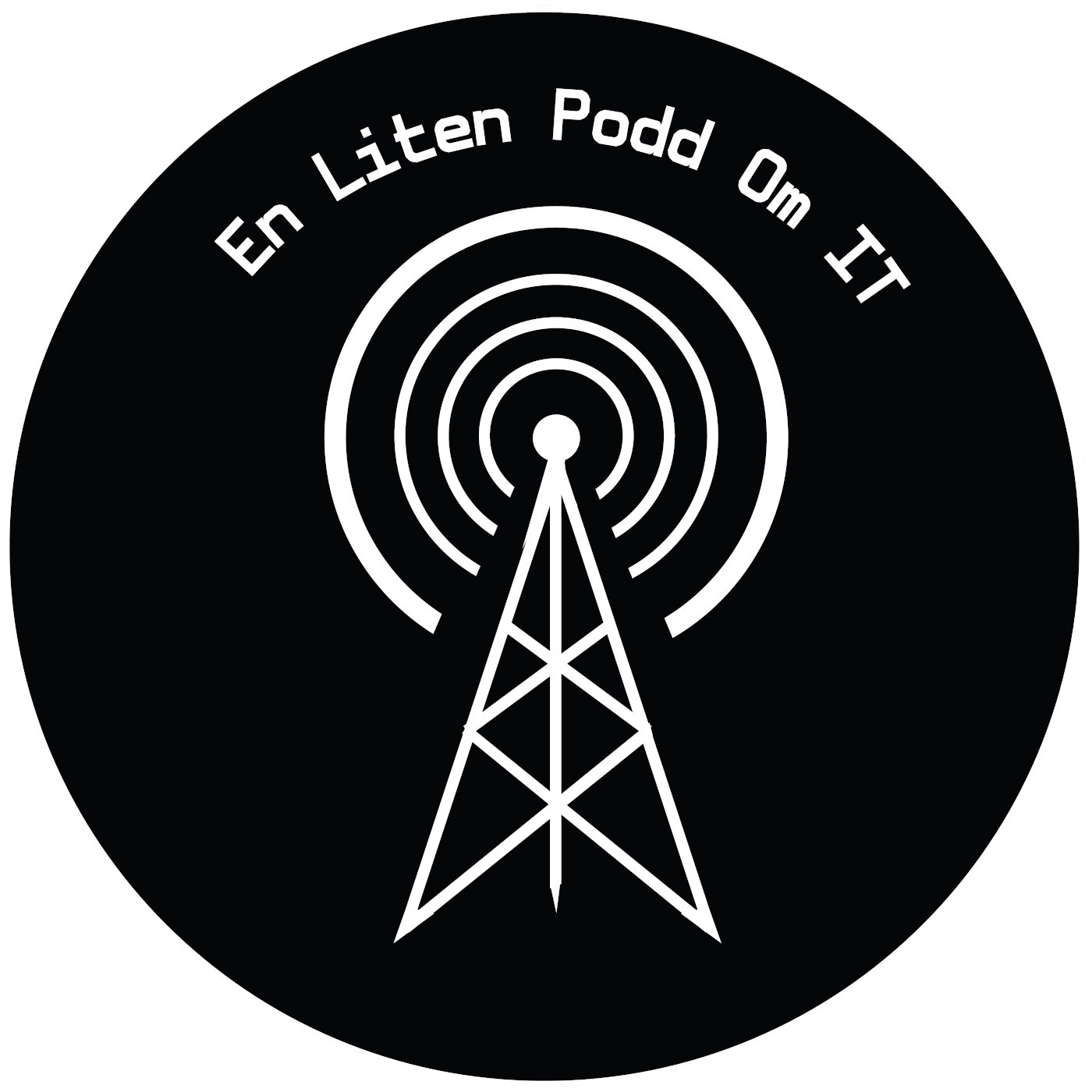 En liten podd om IT är en podd där där du hör Björn, David, Mats och Johan föra en väldigt ostrukturerad diskussion om allt som har minsta lilla anknytning till IT. Kriteriet för ämnen i podden är "vi pratar om det som vi tycker är roligt eller intressant och det handlar oftast om IT". Men varje vecka brukar rubrikerna "Microsoft", "Google" och "Apple" tas upp.
Episodes
Thursday Jun 01, 2023
Om Shownotes ser konstiga ut (exempelvis om alla länkar saknas. Det ska finnas MASSOR med länkar) så finns de på webben här också: https://www.enlitenpoddomit.se 
 
Avsnitt 418 spelades in den 29 maj och därför så handlar dagens avsnitt om:

INTRO:
- Alla har haft en vecka... David har byggt en ros-portal tillsammans med sin fru (#PåHållSerDetFintUt), och varit parkeringsvakt. Björn har jobbat, varit på nya kontoret, haft barnkalas och vuxenkalas för 9åringen, kollat på Security Fest ( https://www.youtube.com/@securityfest/streams ). Johan har varit i Slovenien och pratat på konferns (pratat om dataverse och Finance and Operations, template-utrullningar, microtjänster i finance and operations), åsså har han varit i Malmö och föreläst på ett frukost seminarie, och imorrn så är det en föreläsning i Oslo. 
  - BONUSLÄNK: Tittat på Youtube:
               https://www.youtube.com/watch?v=ZMQbHMgK2rw 

FEEDBACK AND BACKLOG:
- EU bötfäller Meta, var en nyhet i #tips-kanalen från PerfectlyNormal
- Volvo har tillverkat bilar i 96 år
  https://www.volvocars.com/intl/v/our-heritage 
- Apples Butterfly Keyboards
  https://www.androidauthority.com/apple-butterfly-keyboard-settlement-approved-3330074/ 
- Google och Sonos
  https://swedroid.se/google-tvingas-betala-325-miljoner-dollar-till-sonys-efter-patentdispyt/ 
- Bitwarden får Passkey Stöd
  https://www.androidpolice.com/bitwarden-announces-passkey-support/ 

ALLMÄNT NYTT
- Whats App får snart användarnamn
  https://www.androidpolice.com/whatsapp-could-soon-support-usernames/ 

LYSSNARFRÅGA:
- Björne har skickat ut lite klistermärken. (Värnamo och Växjö)

DISKUSSION:
- Så påverkas jobben av AI
  https://kollega.se/arbetsmarknad/ai-skakar-om-arbetsmarknaden-sa-paverkas-du 
  På World economic Forum så sa man så här: 
  https://computersweden.idg.se/2.2683/1.778785/sa-paverkar-ai-jobben---det-ar-den-storsta-oron 

MICROSOFT
- Copilot i Win 11
  https://www.thurrott.com/windows/283470/build-2023-windows-copilot-for-windows-11-is-coming-in-june 
- Mer AI, denna gång i Windows Store
  https://www.thurrott.com/windows/283490/build-2023-microsoft-store-ai-features 
- Win11 får stöd för rar, 7z och gz (tips från KB)
  https://www.bleepingcomputer.com/news/microsoft/windows-11-getting-native-support-for-7-zip-rar-and-gz-archives/ 
- Windows får Force Quit
  https://swedroid.se/windows-11-kommer-erbjuda-satt-att-tvinga-fram-avslutning-utan-aktivitetshanteraren/ 
- Azure Linux är GA
  https://www.theregister.com/2023/05/26/microsoft_azure_linux_container/ 
- ToDo I Loop
  https://www.microsoft.com/microsoft-365/roadmap?featureid=124928 
- Om man vill lyssna på Bill Gates och vem som kommer winn AI-racet:
  https://finance.yahoo.com/news/bill-gates-says-winner-race-105521661.html 
- Vill man läsa en analys om Microsoft Build så finns det en på Stratechery:
  https://stratechery.com/2023/windows-and-the-ai-platform-shift/ 
- Och hela keynoten finns här:
  https://youtu.be/FaV0tIaWWEg 

APPLE
- Nope.... WWDC nästa vecka...

GOOGLE:
- Google Messages Magic Compose
  https://www.androidauthority.com/google-magic-compose-3329382/ 
- Google har lanserat att de tänker släppa en konkurrent till Github Copilot
  https://techcrunch.com/2023/05/10/google-launches-a-github-copilot-competitor/ 
- Google Play Games for PC kommer till Europa
  https://www.engadget.com/google-play-games-for-pc-is-now-available-in-europe-and-new-zealand-132827267.html 
  https://play.google.com/googleplaygames 
- Google Chromes Sidepanel får ett API
  https://swedroid.se/insticksprogram-kommer-kunna-anvanda-chromes-sidopanel/ 

TIPS:
- Sevärd dokumentär om Marcus Eriksson
  https://viaplay.se/film/unleashing-the-dragon-2023 
- Hittade en bra site
  https://endoflife.date/mssqlserver 
  - BONUSLÄNK: https://msportals.io/ 
- Build sessioner
  - Scott and Mark Learn to Code | WAKEY06 - https://www.youtube.com/watch?v=iihJYAMIRP4 
  - State of GPT | BRK216HFS - https://www.youtube.com/watch?v=bZQun8Y4L2A 

PRYLLISTA
- Björn:  avgasrör… :(
           Men på temat "tillbaka till kontoret": https://www.amazon.com/dp/B0BKZW27FY/  
- David: Vill inte ha: https://www.scottevest.com/ 
         Menvill ha en minipresso: https://www.amazon.com/Minipresso-Portable-Espresso-Compatible-Manually/dp/B00VTA9F6U/ 
- Johan: Bakgrundsbelysning I mitt kontor och hyllplan  

EGNA LÄNKAR
- En Liten Podd Om IT på webben, 
    http://enlitenpoddomit.se/ 
- En Liten Podd Om IT på Facebook, 
    https://www.facebook.com/EnLitenPoddOmIt/ 
- En Liten Podd Om IT på Youtube, 
    https://www.youtube.com/enlitenpoddomit 
- Ge oss gärna en recension
   - https://podcasts.apple.com/se/podcast/en-liten-podd-om-it/id946204577?mt=2#see-all/reviews  
   - https://www.podchaser.com/podcasts/en-liten-podd-om-it-158069 

LÄNKAR TILL VART MAN HITTAR PODDEN FÖR ATT LYSSNA:
- Apple Podcaster (iTunes), https://itunes.apple.com/se/podcast/en-liten-podd-om-it/id946204577 
- Overcast, https://overcast.fm/itunes946204577/en-liten-podd-om-it 
- Acast, https://www.acast.com/enlitenpoddomit 
- Spotify, https://open.spotify.com/show/2e8wX1O4FbD6M2ocJdXBW7?si=HFFErR8YRlKrELsUD--Ujg%20 
- Stitcher, https://www.stitcher.com/podcast/the-nerd-herd/en-liten-podd-om-it 
- YouTube, https://www.youtube.com/enlitenpoddomit 

LÄNK TILL DISCORD DÄR MAN HITTAR LIVE STREAM + CHATT
- http://discord.enlitenpoddomit.se 
(Och glöm inte att maila bjorn@enlitenpoddomit.se  om du vill ha klistermärken, skicka med en postadress bara. :)