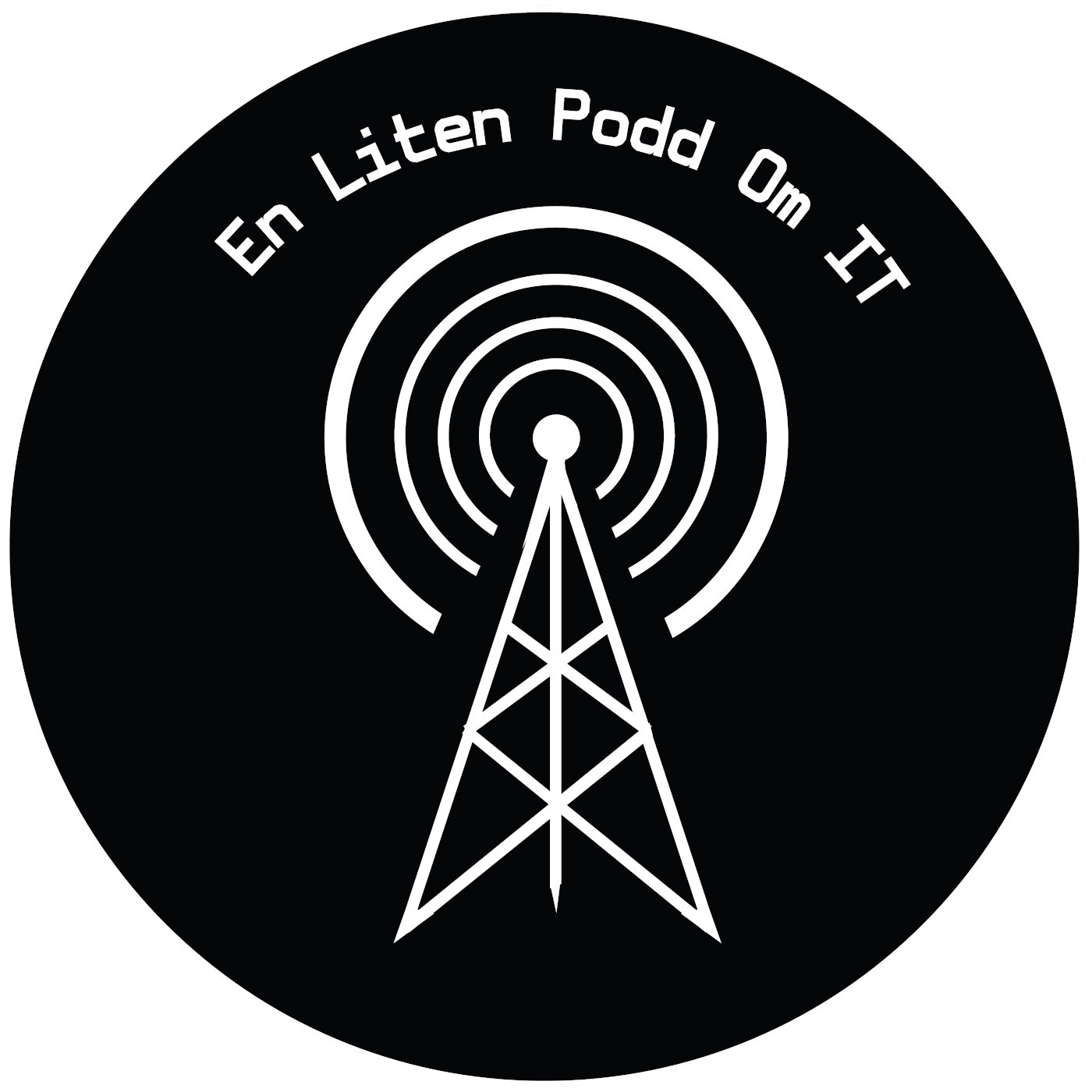 En liten podd om IT är en podd där där du hör Björn, David, Mats och Johan föra en väldigt ostrukturerad diskussion om allt som har minsta lilla anknytning till IT. Kriteriet för ämnen i podden är "vi pratar om det som vi tycker är roligt eller intressant och det handlar oftast om IT". Men varje vecka brukar rubrikerna "Microsoft", "Google" och "Apple" tas upp.
Episodes
Thursday Apr 21, 2022
ELPOIT #363 - 
Om Shownotes ser konstiga ut (exempelvis om alla länkar saknas. Det ska finnas MASSOR med länkar) så finns de på webben här också: https://www.enlitenpoddomit.se 
 
Avsnitt 363 spelades in den 19 april och eftersom att SERIEOTROHET är ett riktigt ord som innebär att du ser ett avsnitt av serien, som du normalt ser med din partner, utan din partner så handlar dagens avsnitt om:

INTRO:
- Alla har haft en vecka... David har pratat med troll på Internet, och varit ute och cyklat (först med och sedan utan powerbank, föratt sedan ha en powerbank igen). Björn har tittat på bio och haft väder. Johan har varit ute och sprungit, och kollat på bio med riktig musik. 

FEEDBACK AND BACKLOG:
- Gammal Backlog (Amerikanska rättssystemet är inte så snabbt)
  https://techcrunch.com/2022/04/18/web-scraping-legal-court/ 
- Elon igen
  https://www.engadget.com/elon-musk-twitter-ted-181607962.html 
-  Konferenser
  - AWS Summit Stockholm 
    11 Maj (Ons)
    https://aws.amazon.com/events/summits/stockholm/ 
  - Google I/O   (KUL NEDRÄKNING!!!)
    11-12 Maj (Ons-Tors)
    https://io.google/2022/  
  - Microsoft Build:  
    24-26 Maj (Tis - Tors)
    https://mybuild.microsoft.com/  
  - WWDC 
    6-10 Juni (Mån-Fre)
    https://developer.apple.com/wwdc22/ 
  - VMware World som bytt namn till "VMware Explore"
    https://www.vmware.com/explore.html? 
    US, 29 Aug - 1 sept
    Europa, 7-10 Nov
- En annan sak som vi pratade om förra veckan var spotify och jag har nu hittat länken
  https://www.di.se/digital/spotify-avslojar-kansliga-siffran-jattehaftig/ 

ALLMÄNT NYTT
- Nya klockor från Garmin
  https://gadgetsandwearables.com/2022/04/15/garmin-forerunner-255-255s-955-venu-sq-2/ 
- Mute är inte alltid Mute (Cred till: DanielGR)
  https://www.bleepingcomputer.com/news/security/mute-button-in-conferencing-apps-may-not-actually-mute-your-mic/ 
- Ooops
  https://www.bleepingcomputer.com/news/technology/atlassian-finally-explains-the-cause-of-ongoing-cloud-outage/ 
- WhatsApp släpper Communities
  https://swedroid.se/whatsapp-presenterar-communities-och-andra-nya-funktioner/ 
- Boeing gör INTE en "amerikanska Department of Defence" 
  https://techwireasia.com/2022/04/boeing-expands-cloud-services-with-aws-google-and-microsoft/ 

LYSSNARFRÅGA:
- Ingen fråga, men David hörde av sig om klistermärken. Så ett kuvert ligger i hallen och kommer med stor sannorlikhet att gå iväg till David imorrn. 
Så: "Var som David!!

MICROSOFT
- Läskig Windows Bug
https://www.bleepingcomputer.com/news/microsoft/critical-windows-rpc-cve-2022-26809-flaw-raises-concerns-patch-now/ 
  - BONUSLÄNK: https://thenerdherdse.wordpress.com/2022/04/08/patchning/ 
- Nog inte vad MS önskade sig
  https://www.thurrott.com/windows/windows-11/265716/report-more-pcs-running-windows-xp-7-and-8-than-windows-11 
- Och detta händer ju när man inte låter kunder uppdatera
  https://www.bleepingcomputer.com/news/security/unofficial-windows-11-upgrade-installs-info-stealing-malware/ 
  - BONUSLÄNK 1: https://www.crn.com/news/applications-os/microsoft-exec-windows-11-cpu-requirements-allow-key-security-features-to-run-by-default-
  - BONUSLÄNK 2: https://www.cnet.com/tech/services-and-software/is-this-why-microsoft-named-it-windows-10/ 
- "local Time" i Teams
  https://www.microsoft.com/en-us/microsoft-365/roadmap?filters=&searchterms=54254 
- Tips på plats för nyheter kring Azure:
  https://azure.microsoft.com/en-gb/updates/ 
- Tips på plats för nyheter kring Azure:
  https://azure.microsoft.com/en-gb/updates/ 

APPLE
- NSO is back again:
  https://www.bleepingcomputer.com/news/security/newly-found-zero-click-iphone-exploit-used-in-nso-spyware-attacks/ 
  - BONUSLÄNK: https://darknetdiaries.com/episode/100/ 
GOOGLE:
- Google fixar Chrome Bug (DanielGR)
  https://www.bleepingcomputer.com/news/security/google-chrome-emergency-update-fixes-zero-day-used-in-attacks/ 
- Google släpper app för att flytta till Android
  https://appleinsider.com/articles/22/04/17/google-takes-six-years-to-copy-apple-in-releasing-switch-to-android-app-for-ios 
- Oooooh… Klockor
  https://swedroid.se/google-butiken-far-avdelning-for-klockor/ 

TIPS:
- "Putins troll" av Jessikka Aro
  https://www.adlibris.com/se/e-bok/putins-troll---sanna-berattelser-fran-fronten-i-rysslands-informationskrig-9789198673616 
- Microsofts Partner Podd
  https://shows.acast.com/microsoft-partner-podden/episodes/vad-ar-det-som-ar-sa-svart-med-dynamics 
- "Dominoeffekten" av Carolina Angelis
  https://www.adlibris.com/se/bok/dominoeffekten-9789188981172 
- Lästips: (Tack DanielGR)
  https://httpie.io/blog/stardust 

PRYLLISTA
- Björn:  Jobba hemmifrån är en materialsport
  https://www.etsy.com/listing/810477280/custom-made-to-order-vhs-movie-light 
  - BONUSLÄNK: Filmen UHF, https://www.imdb.com/title/tt0098546/
- David: https://www.webhallen.com/se/product/346474-LEGO-Icons-Doc-Browns-1982-DeLorean-DMC-12-10300  och
  https://www.lightmybricks.eu/collections/vehicles-lego-light-kits/products/lego-back-to-the-future-time-machine-10300-light-kit 
- Johan: Belysning och kanske ett nytt arbetsrum :)

EGNA LÄNKAR
- En Liten Podd Om IT på webben, 
    http://enlitenpoddomit.se/ 
- En Liten Podd Om IT på Facebook, 
    https://www.facebook.com/EnLitenPoddOmIt/ 
- En Liten Podd Om IT på Youtube, 
    https://www.youtube.com/enlitenpoddomit 
- Ge oss gärna en recension
   - https://podcasts.apple.com/se/podcast/en-liten-podd-om-it/id946204577?mt=2#see-all/reviews  
   - https://www.podchaser.com/podcasts/en-liten-podd-om-it-158069 

LÄNKAR TILL VART MAN HITTAR PODDEN FÖR ATT LYSSNA:
- Apple Podcaster (iTunes), https://itunes.apple.com/se/podcast/en-liten-podd-om-it/id946204577 
- Overcast, https://overcast.fm/itunes946204577/en-liten-podd-om-it 
- Acast, https://www.acast.com/enlitenpoddomit 
- Spotify, https://open.spotify.com/show/2e8wX1O4FbD6M2ocJdXBW7?si=HFFErR8YRlKrELsUD--Ujg%20 
- Stitcher, https://www.stitcher.com/podcast/the-nerd-herd/en-liten-podd-om-it 
- YouTube, https://www.youtube.com/enlitenpoddomit 

LÄNK TILL DISCORD DÄR MAN HITTAR LIVE STREAM + CHATT
- http://discord.enlitenpoddomit.se 
(Och glöm inte att maila bjorn@enlitenpoddomit.se  om du vill ha klistermärken, skicka med en postadress bara. :)