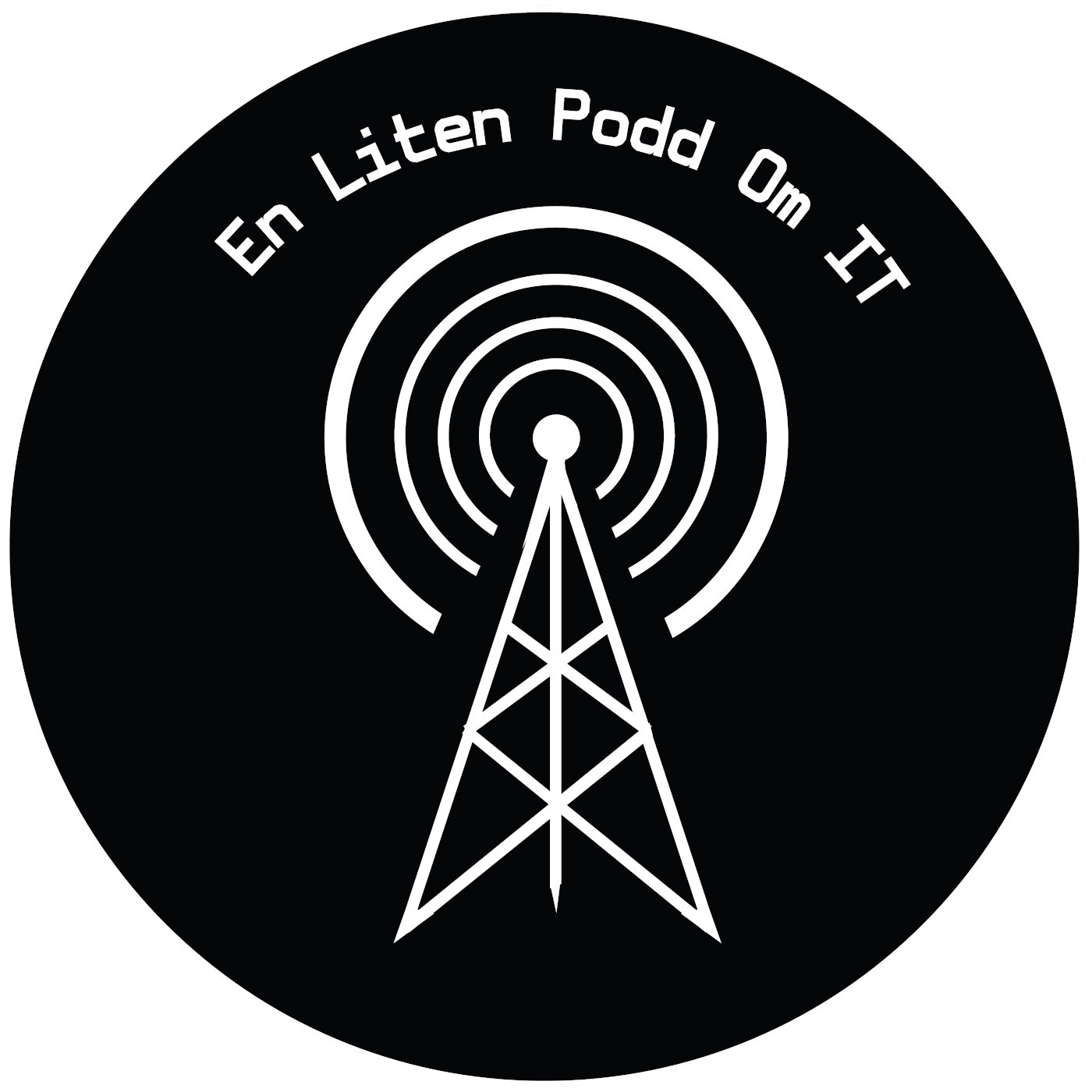 En liten podd om IT är en podd där där du hör Björn, David, Mats och Johan föra en väldigt ostrukturerad diskussion om allt som har minsta lilla anknytning till IT. Kriteriet för ämnen i podden är "vi pratar om det som vi tycker är roligt eller intressant och det handlar oftast om IT". Men varje vecka brukar rubrikerna "Microsoft", "Google" och "Apple" tas upp.
Episodes
Thursday Aug 26, 2021
Om Shownotes ser konstiga ut (exempelvis om alla länkar saknas. Det ska finnas MASSOR med länkar) så finns de på webben här också: https://www.enlitenpoddomit.se 
 
Avsnitt 331 spelades in den 24 augusti och eftersom att världens första fortkörningsbörter var för 13km/h ( https://www.guinnessworldrecords.com/world-records/414379-first-person-charged-with-a-speeding-offence ) så handlar dagens avsnitt om:

INTRO:
- Alla har haft en vecka. Johan känner kärleken
 - BONUSLÄNK: Filmen, Edge of tomorrow: https://www.imdb.com/title/tt1631867/  

FEEDBACK AND BACKLOG:
- Var med i discord!
- Använd Yubikey
- Johan menade Amazon i förra avsnittet
- Nu är pengarna återbetalade
  https://appleinsider.com/articles/21/08/23/hacker-returns-all-610m-of-stolen-poly-network-crypto 

ALLMÄNT NYTT
- Tydligen så använder vi SKITMYCKET appar å sånt
  https://techcrunch.com/2021/08/21/this-week-in-apps-onlyfans-bans-sexual-content-shareplay-delayed-tiktok-questioned-over-biometric-data-collection/ 
- "Hello World"
  https://www.theregister.com/2021/08/19/spaceborne-2/ 
- Svenska staten har lite taskig koll på Bitcoin
  https://appleinsider.com/articles/21/08/24/sweden-owes-15m-to-convicted-drug-dealers-in-bitcoin-blunder 
- Walmart säljer infrastruktur
  https://techcrunch.com/2021/08/24/walmart-announces-golocal-a-last-mile-delivery-service-for-other-retailers 
  BONUSLÄNK: Walmart på Wikipedia: https://en.wikipedia.org/wiki/Walmart 
- Spotify konkurrerar med Apple
  https://appleinsider.com/articles/21/08/24/spotify-launches-premium-podcast-subscriptions-to-all-us-creators 
- Veckans "pappa-slå-dem-de-är-dumma!" 
  https://appleinsider.com/articles/21/08/24/apple-google-want-white-house-to-challenge-south-korean-legislation-on-app-stores 

LYSSNARFRÅGA:
- Gör som Mattias i Ängelholm! Skicka ett mess om att du behöver klistermärken så kommer de med posten (de borde komma idag eller imorrn). 
Lycka till med nya jobbet!!

MICROSOFT
- Microsoft höjer priset på Microsoft 365, Office 365 för företag
  https://www.zdnet.com/article/microsoft-to-increase-microsoft-365-office-365-commercial-prices-in-march-2022/ 
- Plug and Pray!!
  https://www.engadget.com/razer-mouse-windows-10-security-vulnerabliity-141732431.html 
- Github tar bort lösenord
  https://github.blog/2021-08-16-securing-your-github-account-two-factor-authentication/ 
- Heads-up (kortnyhet) Azure VMs (Basic och standard A-serie försvinner!) 
  https://azure.microsoft.com/en-us/updates/action-required-migrate-your-azure-workloads-to-av2series-vms-before-31-august-2024/ 
- PowerPlatform Woops
  https://www.thurrott.com/cloud/254648/misconfigured-power-apps-portals-exposed-data-for-38-million-users 
- Microsoft berättar att X-Cloud kommer till äldre konsoller
  https://www.engadget.com/xbox-cloud-gaming-game-pass-xbox-series-x-s-xbox-one-173404923.html 
- Det blir MS Ignite I November
  https://www.thurrott.com/microsoft/254709/next-microsoft-ignite-is-coming-virtually-in-november 

APPLE
- Apple MacBook Pro M1X
  https://www.macrumors.com/2021/08/15/gurman-multiple-fall-events-m1x-macbook-pros/ 
- Apple Mini M1X-rykten 
  https://www.macrumors.com/2021/08/22/gurman-high-end-mac-mini-this-fall/ 
- Andrahandsvärdet på Apple-produkter imponerar!!
  https://appleinsider.com/articles/21/08/20/functional-apple-1-with-hardware-suite-sells-for-over-370000 
- Ett år Apple TV+ till T-mobile kunder
  https://appleinsider.com/articles/21/08/23/one-year-apple-tv-subscription-offered-to-t-mobile-subscribers
  - Tre dagar tidigare: https://appleinsider.com/articles/21/08/20/t-mobile-says-53m-more-customers-affected-by-breach-imei-data-stolen  (Ohps!) 

GOOGLE:
- Antitrustsåpan fortsätter
  https://swedroid.se/google-pastas-ha-betalat-tillverkare-for-att-inte-inkludera-alternativa-appbutiker/ 
- Lokala betyg I Play Store
  https://swedroid.se/play-store-kommer-borja-visa-lokala-betyg/ 

ANDRA NYHETER:
- Kortnyhet: Nvidias köp av ARM blir troligen lite fördröjt
  https://www.thurrott.com/hardware/254533/nvidia-says-arm-acquisition-is-likely-delayed 

PRYLLISTA
Björn: Kanske en effekt-pedal till min luftgitarr: https://www.daredevilpedals.com/shop-1/p/placebo 
       Eller kanske skaffa akvarie: https://www.amazon.com/dp/B08QCJ7JL1/ 
David: En t-shirt https://ryangeorge.threadless.com/designs/super-easy-barely-an-inconvenience/mens/t-shirt/triblend 
       BONUSLÄNK: Ryan Georges youtube kanal: https://www.youtube.com/user/RyGeor 
Johan: en bildskärm kanske , https://www.mistore.se/sv/ljud-video-bild/bildskarmar/mi-curved-gaming-monitor-34 

EGNA LÄNKAR
- En Liten Podd Om IT på webben, http://enlitenpoddomit.se/ 
- En Liten Podd Om IT på Facebook, https://www.facebook.com/EnLitenPoddOmIt/ 
- En Liten Podd Om IT på Youtube, https://www.youtube.com/channel/UCf0vgNRHAzckDMyh8inuYmQ 
- Ge oss gärna en recension
   - https://podcasts.apple.com/se/podcast/en-liten-podd-om-it/id946204577?mt=2#see-all/reviews  
   - https://www.podchaser.com/podcasts/en-liten-podd-om-it-158069 

LÄNKAR TILL VART MAN HITTAR PODDEN FÖR ATT LYSSNA:
- Apple Podcaster (iTunes), https://itunes.apple.com/se/podcast/en-liten-podd-om-it/id946204577 
- Overcast, https://overcast.fm/itunes946204577/en-liten-podd-om-it 
- Acast, https://www.acast.com/enlitenpoddomit 
- Spotify, https://open.spotify.com/show/2e8wX1O4FbD6M2ocJdXBW7?si=HFFErR8YRlKrELsUD--Ujg%20 
- Stitcher, https://www.stitcher.com/podcast/the-nerd-herd/en-liten-podd-om-it 

LÄNK TILL DISCORD DÄR MAN HITTAR LIVE STREAM + CHATT
- http://discord.enlitenpoddomit.se 
(Och glöm inte att maila bjorn@enlitenpoddomit.se om du vill ha klistermärken, skicka med en postadress bara. :)